About Us
We, Shyam Coal Corporation are acknowledged as a leading manufacturer of Indonesian Coal Powder, Coal Based Activated Carbon, Coal Additives etc. Additionally, our company is associated with many profound vendors of Dominica and many other places from where we import Indonesian Coal, Indonesian Steam Coal etc. As an expert contender, we understand the needs of our clients and always work to exceed their expectations. They are aware of the fact that we are different from others and after associating with us they come to know that we think of them before any of our personal interests and gains. This makes them stay with us and proudly boast about about our services, which is one of the reasons of our enviable popularity today.

The Management
Our management team consists of diligent executives and experienced top management personnel. All our employees strive day and night to satisfy the needs of clients by delivering their consignments on time. Plus, the top management handles import channels and is responsible for strategy development.

Vision
Our vision is to regularly bring improvements to our services and make our clients proud of their decision of associating with us.

Group Companies
Today, we are catering to the needs of numerous great as well as renowned companies across India.
Winmax Plus Ceramic Pvt Ltd
Winmax Ceramic Pvt Ltd
Shree Hari Coal Corporation ( Surat )

Global Market
We own a great markets base in Gujarat,which is one of the states which is growing very fast in terms of industry establishment. Coal firing here is the solution for great industries to process their work. To fulfill their needs, we supply them with high quality local as well as imported coal. It makes us so proud to see clients trust on us and only prefer us as their coal supplying partner.

Quality
Quality is one of the factors on which reputation of a company is based. Since our inception, we have always tried to maintain high standards. Following are the steps of our business process where we stay very careful regarding the quality of our supplies and services both:
Buying

raw coal from vendors in India and from many foreign nations, we make sure to only procure products from authorized companies.

Processing

the assortment of coal and segregating it in different sizes is another major task where our people work with complete focus on quality. Constant checking on each step is done before the storage of coal in our warehouse.

Storage of coal takes place in a huge warehouse where great chimneys are installed to maintain suitable temperature and a humid free environment. We make sure we look after the effectiveness of coal by storing it carefully.
Delivery by us is always quick as we are known for our punctuality and our habit of keeping promises. We have a great transport facility which enables us to assure prompt delivery of consignments.
After Sales,

we are 24*7 available for our clients so that they can readily contact us for any query or information.

Industries We Serve
Following are the industries where our product supply is greatly demanded and the contenders frequently contact us for the same:
Floor Tiles Industry
Wall Tiles Industry
Potteries
Vitrified Tiles Industry

Steel Industry

Refractory And Related Material
Brass And Copper Industry

Bricks Plant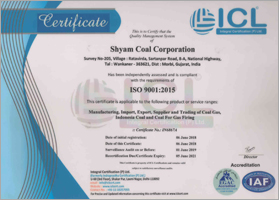 Read More